Training
The Brigade is committed to developing the capability of members, so they can respond appropriately, effectively and safely in times of emergency.
The NSW RFS offers a wide variety of training programs to cater to the different operational and non-operational needs of the Service. The training offered to members is developmental and encourages personal advancement as a member's experience within the Service increases.
The NSW RFS is a Registered Training Organisation (RTO – #6970) and the majority of training offered is linked to national qualifications, which are recognised outside the Service.
Internally, training is consolidated into five identifiable bands from 'Foundation' through to 'Strategic'. The training bands outlined below allow members to better identify, plan and navigate their own learning pathways during their time with the Service.
In order to maintain and improve our skills we encourage our members to do at least 6 training sessions or activities a year – this may be a morning of skills practice at the shed, a duty crew, an RFS course or attending a Hazard Reduction.
The NSW RFS promotes and supports a flexible, blended approach to learning. The use of face to face learning, mixed with interactive and self-paced activities has ensured different learners individual needs are catered for.
Training Information Booklet
The Training Information Booklet allows members to readily locate information about courses, learning pathways and most importantly better understand their rights and obligations as a trainee and/or trainer and assessor, when involved in training within the NSW RFS.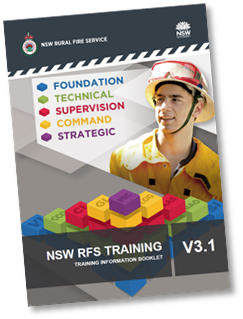 The Training Information Booklet includes the following information:
Structure of Training in the NSW RFS
Information for trainees including

enrolment
nominating for courses
recognition of prior learning
assessment and certification
appeals
disciplinary procedures
training records and privacy
feedback
fees and charges

National qualifications on scope
Course overviews for

Mainstream qualifications including Safety induction (SI), Bush Firefighter (BF), Village Firefighter (VF),Advanced Firefighter (AF), Crew Leader Wildfire (CLW), Crew Leader Village (CLV),Crew Leader Supervision (CLS) and Group Leader (GL)
Grassland qualifications including Bush Firefighter Grassland (BFG), Vehicle/Structure F/F in Grasslands (VSG), Crew Leader Grassland (CLG) and Group Leader Grassland (GLG)
Specialist qualifications including Breathing Apparatus Operator (BAO), Catering Assistant (CAT), Communications Centre Assistant (CCA), Rural Fire Driving (RFD), Trim and Cross Cut Fallen Trees (TFT), First Aid Application (FAA) or equivalent and Fire Investigation – Wildfire (WFI)
Aviation qualifications
Incident management qualifications
Trainer and assessor qualifications
Community engagement qualifications

Overview of relevant Service Standards
Overview of Learning and Development resources, guidelines and toolkits
Gap analysis tools (charts) mapping NSW RFS courses to full certificate qualifications
The Training Information Booklet is available to all prospective and existing members.
Trainers and Assessors
Highly trained NSW RFS Trainers and Assessors are integral to nurturing the development of members in the Service. The NSW RFS values the contribution of Trainer and Assessor's and meets their professional development needs by:
Providing professional development programs such as Learning Development Workshops (LDW) and Professional Development Workshops (PDW)
Conducting Learning and Development forums
Publishing the Training Matters newsletter quarterly
Facilitating Learning and Development webinars and the LinkedIn group "The Training Network"
Disseminating Learning and Development circulars, toolkits, guides and fact sheets
Trainers and assessors who deliver any Australian Qualifications Framework (AQF) qualification or a skill set from the Training and Education Training Package are required to undertake professional development in the fields of:
knowledge and practice of vocational training, and
learning and assessment, including competency-based training and assessment.
Trainers and Assessors maintain their subject matter expertise, in part, by being active members of their brigade and responding to call outs to incidents.
Resources
The Learning and Development team are responsible for:
determining the systems which govern how training is conducted in the NSW RFS and has developed and published a set of 'rules' called Training Standard Operating Procedures (or SOPs), which allow the NSW RFS to comply with the National Vocational Education and Training (VET) Standards for training (required by the Australian Skills Quality Authority – ASQA).
for developing training resources to assist members involved in training. These user manual, guidelines and toolkit are available via the member portal MyRFS or a copy can be supplied on request.

User manuals

SAP LSO user manual
Fuel user manual
Online ordering guide

Guidelines and toolkits

Blended learning toolkit
Learning and Development (L&D) webinar series
Photovoltaic Safety

Safe isolation of solar electrical systems

An increasing number of buildings are being fitted with solar electricity generation systems and firefighters need to be aware that isolating power at a main switch may not affect energised supply lines being fed from installed solar array panels.

When exposed to sunlight solar panels generate electricity in the form of direct current (DC) which is supplied to an inverter and converted to AC power that may be used within the building, or fed back to the supply grid.

Should power isolation be required the main switchboard must be isolated in accordance with established procedures with the inverter main switch and solar panel array main switch (located at the inverter) being switched off .

Safety and Photovoltaic Arrays for Fire and Emergency Services

IMPORTANT: power being supplied to the inverter is DC (Direct Current) and cannot be detected by many voltage detection devices. Firefighters attending incidents at buildings fitted with a solar electricity generating systems must consider the potential hazard.

In accordance with AS/NZS 5033 signs must be displayed at the meter box/main switchboard identifying the presence of a solar array and its location. Signage will also indicate the open circuit voltage and short circuit current of the solar array system.

Firefighters should be aware of variances in the design and construction of differing types of power systems incorporating alternative power sources such as wind turbines and diesel generators. The layout and isolation procedures of such systems may vary from the procedures described in this bulletin.

Typical layout example of a grid connect solar electricity generation system,
note the three main system components:

Solar Panel Array Usually located on the roof.
Inverter Converts direct current (DC) to alternating current (AC).
Two-way Electricity Allows surplus power from the Meter solar array to be directed to the grid
Are you prepared for a bushfire?
Find out how
---