3.09pm on Dec 22, 2019
Man missing in Lithgow area after bushfire
NSW Police say a man is missing from the rural village of Bell after a huge bushfire tore through the Lithgow area destroying dozens of buildings.
The man in his 60 or 70s lives on a remote property in Bell and the area was engulfed in fire on Saturday, NSW Police Chief Inspector Chris Sammut said on Sunday.
Inspector Sammut said the man who was still unaccounted for lived on one of the remotest properties in Bell.
"He may have self-evacuated or went to stay with friends and we want the public to let us know any information they have to assist us locate this missing person," he said.
AAP
1.45pm on Dec 22, 2019
'Australians do want action on climate change'
By Michaela Whitbourn
Opposition Leader Anthony Albanese has told reporters that "Australians do want action on climate change".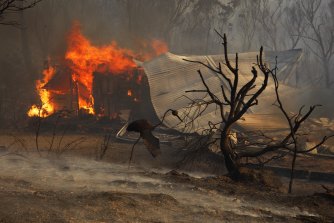 The fire at Dargan on Saturday consumes a building CREDIT:DEAN SEWELL

Speaking after the PM earlier today said that the coalition would not make any changes to its climate policy, Mr Albanese said: "the deputy prime minister said yesterday new measures were needed and a new response and today, going from the acting prime minister to the real Prime Minister, we have a dismissal of the need for any action on climate change."
"Quite clearly the prime minister's attitude when it comes to climate change is 'there's nothing to see here. It's business as usual.' Well if he thinks there's nothing to see here it's because he can't see through the smoke that's coming from these bushfires."
On Mr Morrison's holiday, Mr Albanese said: "I wouldn't have made the decision that he made to go. That's a matter for him. He chose to leave. He chose also to do it in a way that I think created a major issue of secrecy. This government has a real problem with being accountable with any scrutiny whatsoever."
Mr Albanese said he will "not be going overseas" in the coming weeks and "I intend to be around Australia."
1.33pm on Dec 22, 2019
'We've seen no change to climate change policy': Albanese
By Michaela Whitbourn
Opposition Leader Anthony Albanese said it was "a good thing" that Prime Minister Scott Morrison was back in the country "but we saw today no change in his strategy with regard to the bushfires".
"I wrote to the prime minister in November asking him to convene COAG [Council of Australian Governments] in November, prior to the emergency levels of the current crisis, and that was dismissed," he said at a press conference in Rozelle on Sunday.
Anthony Albanese helps feed the RFS crews at Bilpin on Friday.CREDIT:NICK MOIR
"We've seen no change to climate change policy and we've seen no commitment to provide compensation to our volunteer firefighters who are giving up working and the wages that come from that in order to help their communities," Mr Albanese said.
"But they've still got to pay their rent, they've still got to pay their mortgages, they've still got to buy food for their families and they are really struggling. They're fatigued and there's a need for the government to look at making sure that they're properly compensated."
12.38pm on Dec 22, 2019
Disaster Recovery Funding for victims of Green Wattle Creek fire announced
Residents of Wingecarribee and Wollondilly south west of Sydney will be eligible for recovery grants after the devastating Green Wattle Creek fires swept through the area on Saturday.
In a press release issued on Sunday morning, Premier Gladys Berejiklian said the government was: "supporting these communities to become more resilient to disasters by extending the NSW Bushfires Economic Recovery and Community Resilience Grants Program."
Recovery grants of up to $15,000 will be made available to farmers and small business owners.
12.23pm on Dec 22, 2019
'There isn't much left'
There is "not much left" of the township of Balmoral following Saturday's devastating firestorm through the hamlet south west of Sydney, Premier Gladys Berejiklian said.
"We have got the devastating news that there's not much left in fact [in the] town of Balmoral."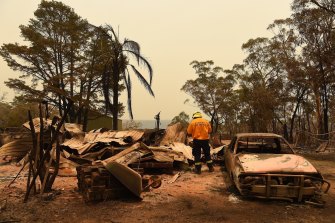 RFS assessors at a burnt out home at Balmoral CREDIT:KATE GERAGHTY
"It's devastating not knowing whether your property is standing or not. Unfortunately, we have received bad news. There isn't much left.
"I understand expert teams are going in on the ground in a lot of those communities today, to make full assessments and to let people know when it is safe to go back. Even if people have lost their properties, they still want to go back to see what's left and if there is anything they can salvage. We know that's part of the recovery. We want people to have access to their land, to their property, as soon as they can, but it has to be safe," she said.
12.12pm on Dec 22, 2019
Premier and Prime Minister visit evacuation centre
Scott Morrison and Gladys Berejiklian are on the ground at Wollondilly Emergency Control Centre, speaking to evacuees and being briefed on local conditions.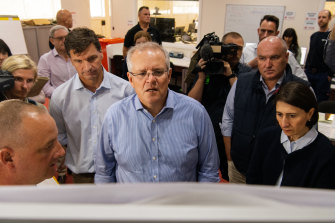 Scott Morrison and Gladys Berejiklian on Sunday morning.CREDIT:JAMES BRICKWOOD

11.23am on Dec 22, 2019
Missing man found
Were happy to report that the man missing in the Dargan area overnight has been found.
NSW RFS✔

@NSWRFS

In some good news: A missing gentleman from the village of Dargan has been located safe and sound this morning by @nswpolice #NSWRFS #nswfires
10.49am on Dec 22, 2019
'An awful day' - Saturday's fires in pictures
With high winds and temperatures, Saturday was described by RFS commissioner Shane Fitzsimmons as an "awful day" for firefighters.
In this gallery, Herald photographers Nick Moir, Kate Geraghty, Dean Sewell, Alex Ellinghausen and Dion Georgopoulos chronicle the Gospers Mountain megablaze, the Currowan fire and the Green Wattle Creek fire.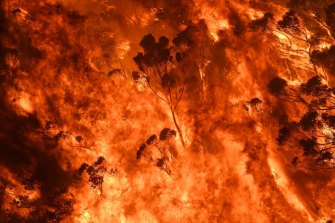 As night falls on Bilpin, it's apparent several homes have been lost along the Bells Line of Road on Saturday.CREDIT:NICK MOIR

10.44am on Dec 22, 2019
Premier and Prime Minister arrive at an evacuation centre
Premier Gladys Berejiklian and Prime Minister Scott Morrison have just arrived at the Picton Bowling Club which has been housing evacuees from the Green Wattle creek fire.
About 12-15 people stayed overnight. Most of the people who were here yesterday have now gone home, but the centre is in the process of confirming addresses for the rest.
---