Source Pittwater Online News
On Friday, September 20th, KIALOA II rounded the Barrenjoey headland to come home after taking part in the 50th edition of the Transpac LA - Honolulu yacht race. They left Pittwater in late April with stops in Apia, Samoa and Honolulu on the way to Long Beach, California.
KIALOA II was designed in 1963 for Jim Kilroy by the premier naval architecture firm of Sparkman and Stephens. John B. "Jim" Kilroy (May 1, 1922 – September 29, 2016) owned and raced the record-breaking Kialoa sailboats from the 1950s to the 1980s, helping pioneer the era of maxi yacht racing.
In 1962 he and his KIALOA I crew won the San Diego-Acapulco race in record time. Within two years, KIALOA II had been designed with even faster speeds in mind and took line honours in the 1971 Sydney to Hobart.
KIALOA III, a maxi yacht, was the dominant sibling, winning the 1975 Sydney-Hobart race with a record time that stood for 21 years. A 1982 article described her legacy this way: "From her debut in 1975 until her retirement last year, Kialoa (a Hawaiian word for 'long, beautiful canoe') took part in 24 SORC (Southern Ocean Racing Conference) races. Time and again she was first across the line only to have some little 42-foot creep bring the wind from behind and beat her on corrected time. Still, Kialoa won four of her 24 SORC tests on corrected time — a remarkable showing, considering that in the same period only three other biggies out of a total of 19 won so much as one race without benefit of age allowance." Kilroy followed up with KIALOA IV and KIALOA V.
Patrick and Keith Broughton bought the 73' yawl KIALOA IIin 2016 with the view to compete in the classic ocean races as Kialoa II did under Jim Kilroy. In 2017 KIALOA II completed the Rolex Fastnet Race and headed home to prepare for the second major goal for the owners Patrick and Keith Broughton, the 2017 Rolex Sydney Hobart. A broken boom during that race slowed the yacht and crew down a bit but they still finished.
On Boxing Day she and her crew will line up again to take part in the 2019 Sydney to Hobart Yacht Race.
In July KIALOA II was among the fleet in the 50th Transpac. Although the first Transpac race for all 16 crew members aboard, this was the 4th for yacht having raced the 2,300nm to Diamond Head, Waikiki in 1965, 1967, and 1971.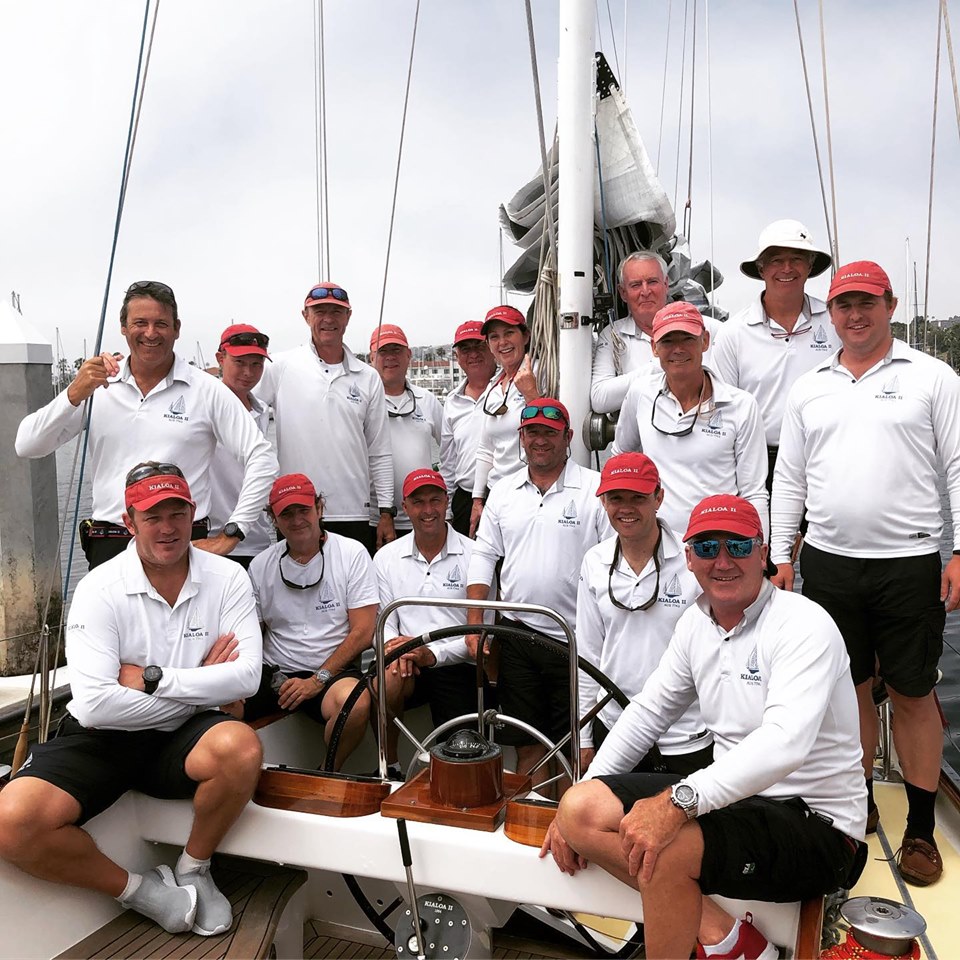 Transpac 2019 Crew: from back - Dallas Kilponen, James Shepherd, Paddy Broughton, Keith Broughton, Dave Sawdon, Gen White, Lindsay May, Jamie Hastie, Tony Hearder, George Jackson, Front - Matt Souter, Grant Chessels, Pete Sheldrick, Jason Toyne, Tom Gresty, Jeff Beaton.
At 20:09 on July 22nd KIALOA II crossed the finish line at Diamond Head, Hawaii to complete the 50th Transpac race and placed second in Division II and 51st overall. The 2210 nautical miles took 10 days 11 hours to complete.
The Ronald L. Burla Trophy for Media Excellence - awarded to the entry that provides the most creative and original media content related to their on-board experience while sailing in Transpac 50 - was presented to KIALOA II's Dallas Kilponen.
In early August she began the long sail home again, completed as this week ended, with the 75th Rolex Sydney to Hobart now in their sights.
You can follow her adventures on the KIALOA II Facebook page: www.facebook.com/kialoa2 and Website: kialoa2.com.au
Well done and Welcome Home - it's great to see you back!
"As we approach Barrenjoey Head at the end of the @transpacrace odyssey, the LOG ticks over to 15,000nm travelled for Paddys 5 month round trip. - Kialoa II, September 20, 2019 at 10:34 AM" - Facebook post
---